NOVA University Lisbon
NOVA University Lisbon is a public institution of higher education with internationally recognized research and quality teaching that ensure high professional success to its students.
It is an open and diverse hub of talent that includes over 23,000 students, of which 18% are international, 1,665 faculty and researchers, 1,135 higher education professionals, and an alumni community with over 100,000 members.
Founded in 1973, under the values of democracy, tolerance, solidarity, and freedom, NOVA has been delivering quality teaching, research of excellence and impactful innovation in a wide set of areas ranging from engineering and technology, humanities, medicine, health and life sciences, economics and management, social sciences, law and data and information science.
With campuses located across the Metropolitan Area of Lisbon and a brand new one now opening in Cairo, NOVA's mission is to serve society locally, regionally, and globally, advancing and disseminating knowledge and understanding across cultures and people.
In order to contribute decisively to building a better future, NOVA's vision is to become an increasingly more global and civic university. For NOVA, this means to be a high international profile, student-centered, collaborative institution, that is open to the world, and recognized by reputable organizations. But it also means to address some of today's global and local challenges in impactful ways, through knowledge and interdisciplinarity, with a deep sense of commitment and social responsibility.
The Knowledge Hub Universities | Egypt
TKH is a multidisciplinary educational hub hosting branches of world-class universities, each to participate with programmes in their areas of strength, providing an intellectually stimulating, enriching, and credible educational experience.
The Knowledge Hub provides a healthy learning environment for students to maximize their potential, develop critical thinking skills, and become future leaders in their respective communities. Creating a connected community of students and faculty from diverse backgrounds, where experiences and ideas are openly exchanged.
Core Purpose: Preparing students for a future of global competitiveness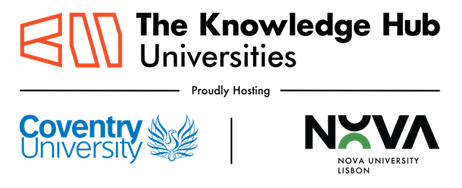 TKH is home for the famous universities; Coventry University and Nova University Lisbon branches in Cairo.
TKH is proudly hosting the UK's prestigious Coventry University since 2019, offering a wide variety of undergraduate programmes in the areas of Engineering, Computing, Design & Media, Business and Psychology. Coventry University's branch at TKH will be celebrating its first graduating class by November 2023.
TKH's second academic partner is the renowned Nova University Lisbon. The first ever international branch for a Portuguese University outside Portugal. Launching for the first Cairo intake in September 2022. Nova University branch at TKH offers a variety of innovative undergraduate programmes in the areas of Environmental & Industrial Engineering, Management, Information Management, and Risk Management.